What is RTX 2070 Price In Pakistan?
The RTX 2070 Price In Pakistan is 70,000. The GPU is among the best high-end of 2023.
The graphic cards in Pakistan are expensive, but still, the enthusiast is buying the GPUs; if you are searching for a high-end graphics card, you should go for the RTX 2070. It is not expensive as the RTX 3000 series, but the performance is epic; you can enjoy 60 fps gameplay at a high setting on all 2023 high-end games.
| | |
| --- | --- |
| Model | Price |
| MSI RTX 2070 Price In Pakistan | Rs 70,000 |
| Zotac RTX 2070 Price In Pakistan | Rs 70,000 |
| Gigabyte RTX 2070 Price In Pakistan | Rs 71,000 |
| Nvidia RTX 2070 Price In Pakistan | Rs 70,000 |
Core/Memory
Boost Clock / Memory Speed 1830 MHz / 14 Gbps
6GB GDDR6
DisplayPort x 3 / HDMI x 1
Twin Frozr 7 Thermal Design
TORX Fan 3.0 – Dispersion fan blade: Steep curved blade accelerating the airflow. – Traditional fan blade: Provides steady airflow to massive heat sink below.
Mastery of Aerodynamics: The heatsink is optimized for efficient heat dissipation, keeping your temperatures low and performance high.
Zero Frozr technology: Stopping the fan in low-load situations, keeping a noise-free environment.
NVIDIA Turing Architecture
This revolutionary architecture, combined with our all-new GeForce RTX platform, fuses together real-time ray tracing, artificial intelligence, and programmable shading. You've never created and enjoyed games like this before.
Real-Time Ray Tracing In Games
Ray tracing is the definitive solution for lifelike lighting, reflections, and shadows, offering a level of realism far beyond what's possible using traditional rendering techniques. NVIDIA Turing is the first GPU capable of real-time ray tracing.
PERFORMANCE
GeForce RTX gaming GPUs come loaded with next-generation GDDR6 memory, support for DirectX 12 features, and more. This is graphics reinvented.
TRI FROZR SERIES
This series features black element, in sharply defined shapes and angles. The aesthetics perfectly match with today's popular build themes.
TRIPLE-FAN THERMAL DESIGN
Using three fans, this product provides excellent air cooling.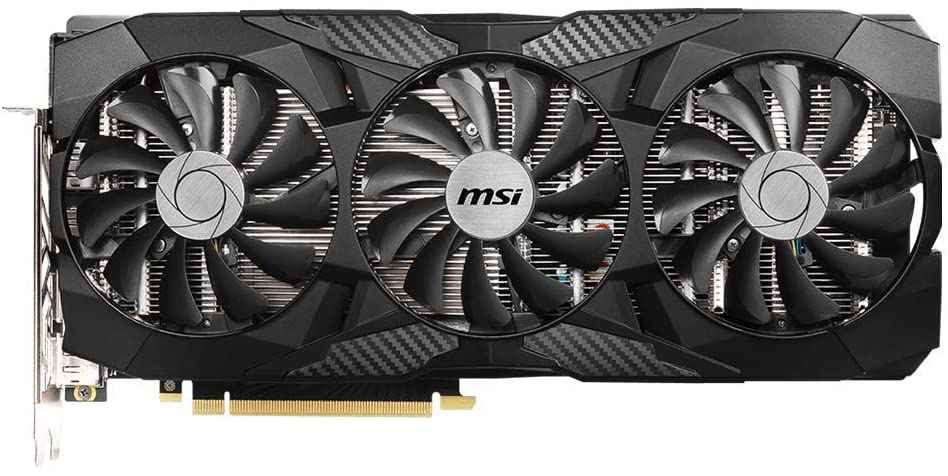 Specifications:
| | |
| --- | --- |
| RAM | ‎8GB GDDR6 |
| Memory Speed | ‎14Gbps |
| Graphics Coprocessor | GeForce RTX™ 2070 TRI FROZR |
| Chipset Brand | NVIDIA |
| Digital Display Resolution | 7680×4320 |
| Graphics Card Ram Size | ‎8GB |
| Brand | MSI |
| Series | GeForce RTX™ 2070 |
| Item Weight | 982 g |
| Product Dimensions | 304 x 140 x 44 mm |
| Manufacturer | ‎MSI COMPUTER |
| Date First Available | ‎January 3, 2020 |
Power Usage:
| | |
| --- | --- |
| Power Consumption | 175W |
| Power Connectors | 8-pin x 1, 6-pin x 1 |
| Recommended PSU | 550W |