What is RX 6900 XT Price In Pakistan?
The RX 6900 XT Price In Pakistan is 325,000. The price and performance make it one of the best graphic cards in Pakistan.
The graphic card stands alongside the Nvidia's RTX 3090; it supports 8k @ 60 fps gaming. It is also used in mining, and the hash rate is one of the highest. AMD also launched a new and upgraded model, the RX 6950 XT. The RX 6950 XT is a great GPU considering the performance boost from the 6900 XT.
| | |
| --- | --- |
| Model | Price |
| AMD RX 6900 XT price in Pakistan | Rs 320,000 |
| Sapphire RX 6900 XT price in Pakistan | Rs 321,999 |
| XFX RX 6900 XT price in Pakistan | Rs 319,000 |
| MSI RX 6900 XT price in Pakistan | Rs 322,000 |
TUF-RX6900XT-O16G-GAMING
TUF GAMING Radeon RX 6900 is a truly tenacious performer
Axial-tech fan design has been enhanced with more fan blades and a new rotation scheme.
Dual ball fan bearings can last up to twice as long as sleeve bearing designs.
An all-aluminum shroud, reinforced frame, and metal backplate enhance durability.
MaxContact heat spreader features a super flat surface for improved thermal transfer.
A 144-hour validation program puts cards through a series of stringent tests to ensure compatibility with the latest games.
A vented backplate prevents hot air from recirculating through the cooling array.
GPU Tweak II provides intuitive performance tweaking, thermal controls, and system monitoring.
ASUS is one of Fortune magazine's World's Most Admired Companies and is one of the top motherboard and gaming brands as well as a top- three consumer notebook vendor. ASUS is driven by passion and innovation and dedicated to creating quality products for a future smart life, designing and manufacturing products that perfectly meet the needs of today's digital home, office and person. Our wide portfolio includes MG248Q, Chromebox and a range of devices and components, along with AR and VR
BIGGER, BETTER COOLING
This generation, our Axial-tech fan design has matured with an increased blade count on all three fans: 13 on the center fan and 11 on the auxiliary fans. The barrier rings on the side fans have been slimmed down to allow for more lateral intake and to provide better airflow through the cooling array.
QUIET CUNNING
To bolster the specialized roles of the center and auxiliary fans, the rotational direction of the center fan is reversed. This reduces air turbulence inside the cooling array for another boost to overall thermal performance. Fans will also only start spinning when the GPU temperature hits 60 Celsius and shut off when temps drop below 55 Celsius, helping to reduce noise when the system is idling or under light load.
MaxContact
To get heat up off the die and into the heatsink array, we've engaged MaxContact technology to polish the surface of the heat spreader and improve smoothness at the microscopic level. The extra flatness allows for better contact with the die for enhanced thermal transfer.
METAL COAT
A machined all-aluminum shroud creates a robust outer shell and a no-nonsense industrial design and grayscale colorway fits into any build with ease.
GPU TWEAK II
The ASUS GPU Tweak II utility takes graphics card tuning to the next level. It allows you to tweak critical parameters including GPU core clocks, memory frequency, and voltage settings, with the option to monitor everything in real-time through a customizable on-screen display. Advanced fan control is also included along with many more features to help you get the most out of your graphics card.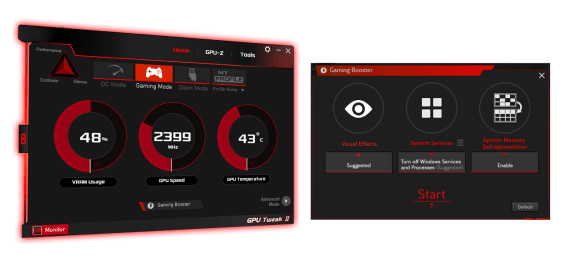 Powerhouse Performance
AMD Radeon RX 6900 Series graphics cards deliver ultra-high frame rates and serious 4K visuals. Get breathtaking gaming experiences with powerful new compute units, groundbreaking AMD Infinity Cache, and up to 16GB of dedicated GDDR6 memory. And, when paired with an AMD Ryzen 5000 Series desktop processor, AMD Smart Access Memory technology offers new levels of gaming performance.
Vivid Visuals
AMD Radeon RX 6900 Series graphics cards pull you into the action with immersive gaming technologies and support for DirectX 12 Ultimate. Experience realistic lighting, shadows, and reflections along with rich detail thanks to DirectX Raytracing (DXR), variable rate shading (VRS), and AMD FidelityFX features, optimized for AMD RDNA 2 architecture.
Elevated Experiences
Instant responsiveness and smooth gaming are leveled-up with low-latency technology from AMD Radeon Anti-Lag and AMD Radeon Boost. Propel your gaming experience with the latest HDMI 2.1 VRR technology, USB-C enabled VR headsets, or over 1250 AMD FreeSync technology-enabled gaming displays.
Specifications:
| | |
| --- | --- |
| RAM | ‎16GB |
| Memory Speed | 2340MHz |
| Graphics Coprocessor | ‎AMD Radeon RX 6900 XT |
| Chipset Brand | AMD |
| Digital Display Resolution | 7680×4320 |
| Graphics Card Ram Size | ‎16GB GDDR6 |
| Brand | ASUS |
| Series | ‎AMD Radeon RX 6900 XT |
| Item Weight | ‎3.74 pound |
| Product Dimensions | ‎12.6 x 5.52 x 2.28 inches |
| Manufacturer | ASUS |
| Date First Available | ‎December 11, 2020 |
Power Usage:
| | |
| --- | --- |
| Power Consumption | 350W |
| Power Connectors | 8-pin x 2 |
| Recommended PSU | 850W |